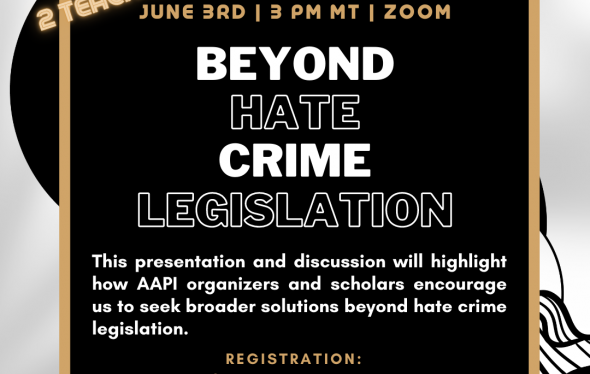 June 3, 2021
Teach In 2 Teach Out: Beyond Hate Crime Legislation


Last Teach In 2 Teach Out for this academic year featuring IRISE Postdoc May Lin, and UCLA Doctoral Candidate Stephanie Chang.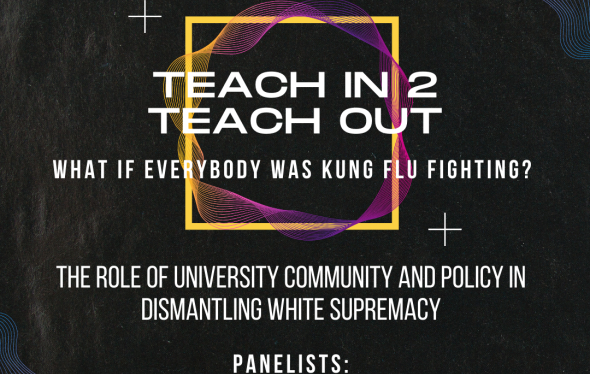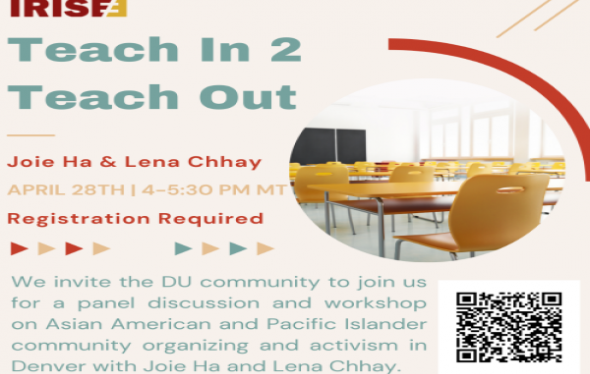 April 28th, 2001
Teach In to Teach Out
Part 1 of 2 Teach In 2 Teach Out seminars on anti Asian racism and community activism with Joei Ha & Lena Chhay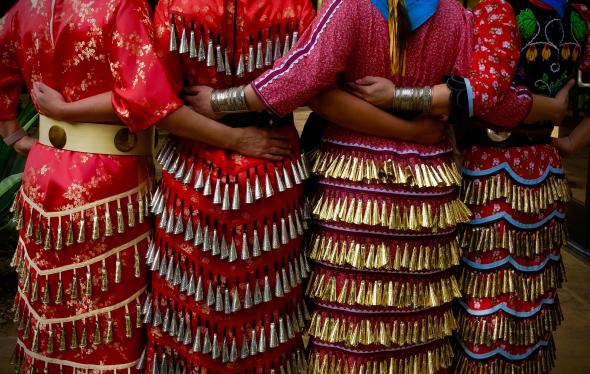 April 29, 2021
Sonic Resistance: Indigenous Women & Social Justice


This panel examines the intersection of sound (music, dance, and performance) and social justice in Indigenous communities in North America. In collaboration with DU's The Spirituals Project, we will consider the way music and sound challenge the spaces of settler society. Established and emerging indigenous scholars will interrogate the intersection of sound and resistance. 
Friday, February 26th
Developing community based health promotion interventions through ceremonially- based participatory research and praxis
Join IRISE on Feb. 26th for a discussion with Dr. Karina Walters!
12-1:30pm  Colloquiem + Q&A:  Register HERE
1:30-2:30pm   Native Community Visit:  Register HERE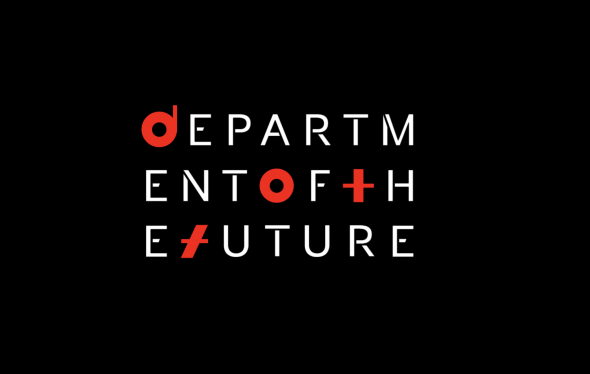 January 29th, 2021
Future Gazing: A Conversation and Lab to Explore Hopes, Fears and The Next Stage of Human Existence.

Join IRISE from 12-1:50pm MST , Registration required HERE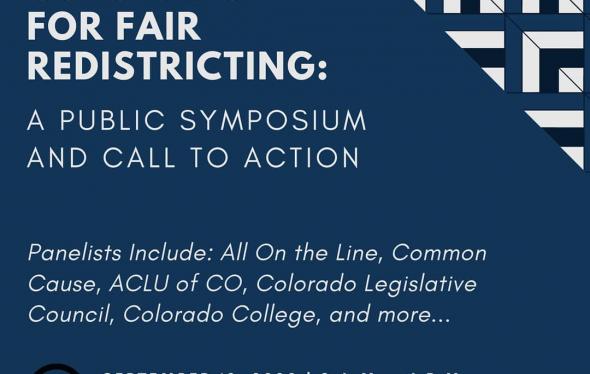 September 19, 2020
Connecting Colorado for Fair Redistricting
Co-hosted by IRISE, Colorado College and the League of Women Voters, this full day event will feature a series of panels addressing Colorado's redistricting process and how community organizations and the public can participate.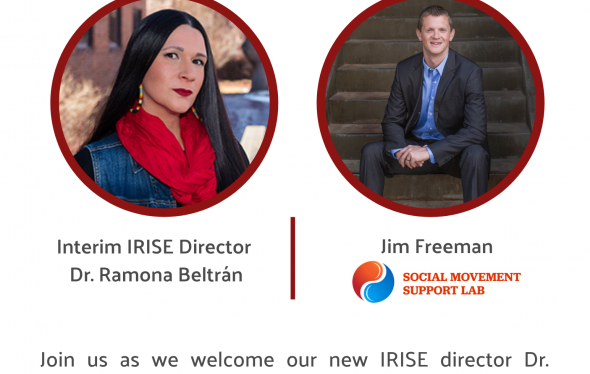 September 18, 2020
IRISE Virtual Kickoff!
Join us in welcoming our new family members and learn how to engage in our work this year!
12-1:30pm MST
https://udenver.zoom.us/j/91263970231
Courses Taught By IRISE Post Docs

Hip Hop As Medicine
Critical Race & Ethnic Studies
Spring 2020
Fridays: 12:00 - 3:40 pm
This course introduces the economic, ideological, and cultural roles of media in our society and racial hegemony. Students will have the opportunity of participating in a community-engagement project focused on hip-hop with youth from the Gang Rescue and Support Project (GRASP).

Women Writing Resistance
GWST 2700-2
Spring 2020
Monday & Wednesdays: 2:00 - 3:50 pm
Poets, bloggers, novelists, reporters, mothers, daughters, activists, survivors; Women have always written our resistance to systems and structures that would relegate us to second-class status. 
In this class, we will read, discuss, and analyze resistance writing by women from late 20th and early 21st centuries. We will also write our own narratives of resistance. 

Critical Latinx Indigeneities & Higher Education
Indigenous Latinx (IL) children and youth are a growing population that has often been rendered invisible in U.S. Schools. These Indigenous children and youth are often subsumed within the "Latina/o/x" and/or "Hispanic" category that homogenizes what it means to be "Latinx" or Latin American. Such homogenization, which is a continuation of colonial projects, erases Indigenous peoples' backgrounds and identities while creating dominant radicalized and linguistic categories (e.g., "white", "Latina/o/x", "Hispanic"). An outcome of this homogenization is the reproduction of inequitable power dynamics.
In this doctoral seminar, we will examine the intersections of Latix Indigeneities and Higher Education to better understand how Indigenous Latinx communities define and constitute Indigeneity across multiple and overlapping colonialities and racial geographies, and, especially, how these experiences overlap with and shape their educational experiences.